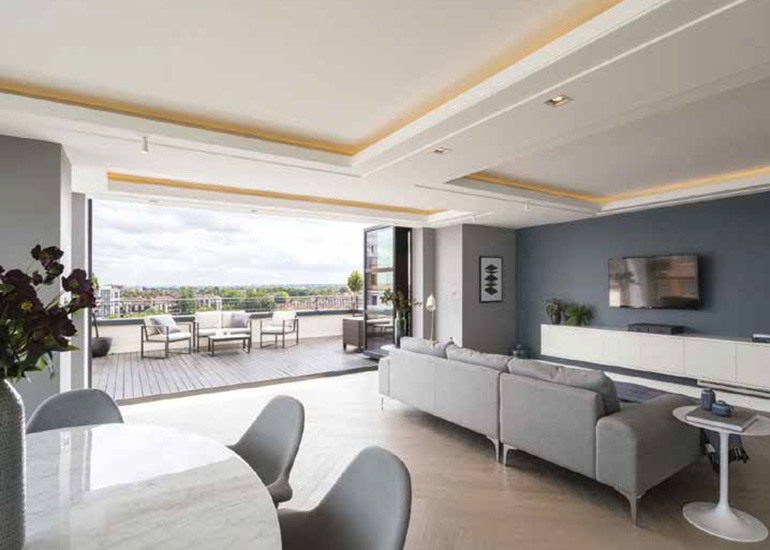 Future lifestyles and habits should focus on our health and using natural resources sustainably. Going back to basics, one of the best natural and free resources is the sun, and the light it offers, a primary influence on architectural design.
Architecture and construction have a big impact on global emissions, as stated in our Green and Mindful Architecture post. Utilising natural light can be a both sustainable and mindful design feature in a home or office. (1) Meanwhile, natural light can help with our mental health.
Environmental psychologist, Sally Augustin Ph.D has previously stated that natural light can cause improvements in both mood and sleeping patterns, (2) highlighting the importance of using design strategies that examine natural light requirements in spaces.
Habitable rooms
There are strict natural light requirements for habitable rooms and internal spaces in the UK, as part of the Building Research Establishment's standards for daylight, and these can vary according to region, but the basic principles remain.
According to former Mayor of London, and current Prime Minister, Boris Johnson's, 'Housing Supplementary Guidance' (March 2016) developers in the capital need to assess the daylight and sunlight impacts of new developments on surrounding properties, as well as within new developments themselves. (3) This followed a London Councils Briefing from August 2015 in which the cross-party organisation stated that it 'supports the need for a significant increase in housing supply in the capital, but this should not be achieved at the cost of producing poor-quality residential accommodation'. (4)
This was in response to low quality developments cropping up or the issue of older developments which can sometimes be dark and dreary; crowded high-density areas can result in habitable rooms that are dark, due to low levels of natural light and shadows caused by nearby taller buildings. Also with the recent permitted development rights, (Statutory planning Law) quality of design and light can be compromised. Going forward our emphasis must remain on high quality spaces, with high levels of natural lighting.
A design concept
When thinking about light, bright rooms, bigger windows automatically come to mind, but there are other great sources of natural light, for example in Japan, FujiwaraMuro Architects' produced 'House with a Light Void' a windowless house in a heavily residential area that is lit from above using a series of skylights. (5)
Inner courtyards and atriums are also a great method of incorporating natural light and nature into homes. While the British classic- glass extensions, can also help to elevate the amount of natural light in homes. Both extensions and atriums are great in theory, but in practice can be expensive and require a significant amount of space, with atriums working best in new homes or developments.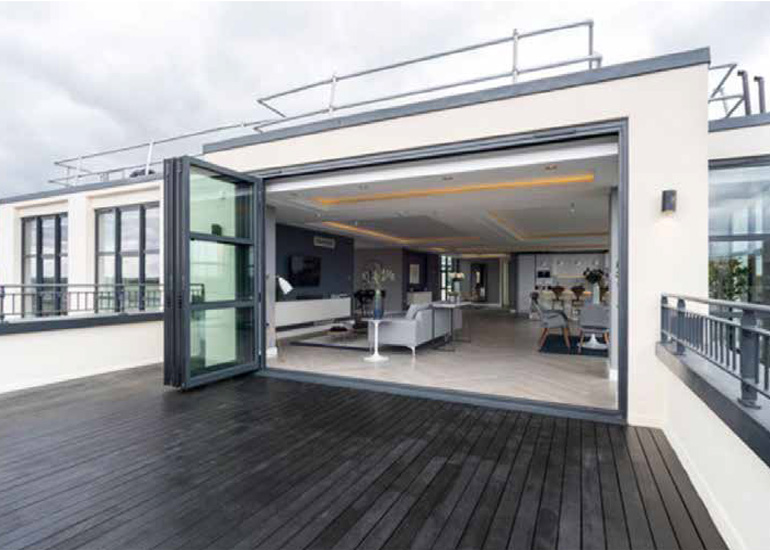 Interior design features
Reading nooks, bifold doors and balconies are design features that could work either in a house, flat or office and all three offer experiences for people to enjoy beautiful views and take time for themselves, both great forms of self care. All of these design opportunities are only relevant to certain types of development and should be further explored in order to welcome natural light in future developments.
A project that Aqua Architecture has worked on is retrofitting Art Deco Building, Long Island House which now features large, light-filled living areas, especially the penthouse apartments, which were built on top of the original building. These new apartments feature bi-fold doors and ample windows.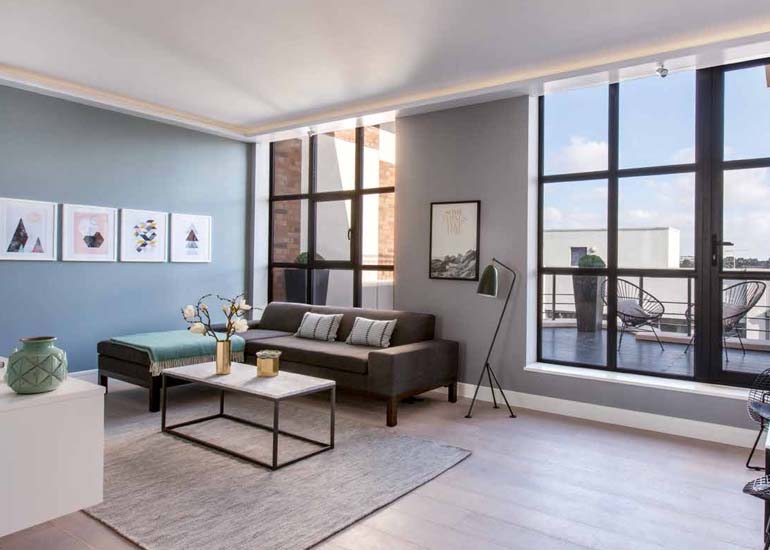 Too much of a good thing?
Glare can be a concern when it comes to both natural and artificial light and legislation exists to protect individuals at home or work from glare. Workplace regulator, the Health and Safety Executive has a 'Lighting at Work' publication. This guidance details that when assessing lighting in the workplace, it is important that there is not too much glare, which when intense can impair vision or in milder cases, cause visual discomfort. (6)
Heat can also be a negative side effect of excessive or improperly used natural light, with high levels of glass causing occupants of a building to overheat, which can be detrimental to the energy efficiency of a building. (7)
Orientation plays a key role in creating a balance between maximising natural light and again minimising overheating. Also, when building in hot countries often high-performance glass needs to be utilised, for example solar control glass can be good at keeping buildings cool and can filter light for reduced glare. (8)
Natural light: a renewable energy source
So far, this blog post has discussed the direct relationship between natural light, sustainability and an occupant's mental health. But what about maximising natural light opportunities in order to generate power?
Solar power can be earth friendly and can therefore help individuals that suffer from eco anxiety. It can also be a source of income, in the UK the smart export guarantee (SEG), pays households for any solar energy generated that is not used by the household, potentially supplementing household incomes. (9)
Solar energy can be utilised through Solar PV (photovoltaic) cells (often placed on the roof of a building) that absorb the sun's energy and convert it into electricity (10) or using solar water heating systems which shift heat from the sun (taken in by solar panels) to heat some of the water used in your home (11).
Increasingly there are options to utilise the sun's energy without the need for planning permission (as is often required when looking to install solar panels) for example, indoor solar lamps (12) or flexible solar panels that can be stuck to walls or roofs. (13) So in order to take advantage of a home's solar energy, architects should endeavour to orient buildings to help to ensure that the roof catches a lot of light and can do the same with windows (while bearing in mind the issue of glare) to allow interior solar cells to catch some rays .
In summary:
It is clear that there are a great many ways that natural light can be beneficial to individuals and the environment. However, when prioritising natural light in architecture there needs to be a balance between healthy, happy sunlight and hot, damaging light. This balance can be reached by examining the risks of glare and overheating (among other elements).
It is also important to consider that it is best to examine and implement natural light opportunities at the beginning of a building's life-cycle as it can be hard for renters to make adjustments to their home or office and if the building is in a very built-up area it can be difficult for home or office owners to add to their purchased space e.g. a new balcony or kitchen extension.
Meanwhile, natural light can be taken advantage of to improve a household's green footprint through utilising sunlight as a power source. This can indirectly help an individual's sense of peace if they suffer from eco anxiety or want to save money in the long run.
Natural light is an empowering design element that can make or break a scheme design.
By Aara Syed in collaboration with Aqua Architecture
---
References
1. https://www.renewableenergymagazine.com/energy_saving/benefits-of-building-a-greenhome- 20201104

2. https://www.psychologytoday.com/gb/blog/people-places-and-things/201907/natural-ligh t-good-light

3. https://www.london.gov.uk/sites/default/files/housing_spg_revised_040516.pdf

4. https://www.londoncouncils.gov.uk/sites/default/files/Policy%20themes/Housing%20and %20planning/The%20Impact%20of%20Permitted%20Development%20Rights_web.pdf

5. https://www.dezeen.com/2021/01/28/house-with-light-void-fujiwaramuro-architects-hyo go-japan/

6. https://www.hse.gov.uk/pubnS/priced/hsg38.pdf

7. https://www.buildinggreen.com/blog/more-heat-light-six-wrong-ways-daylight-building

8. Mohamed Ahmed Alaa El Din
Ahmed Sayed, Mohamed Anwar Fikry,
Impact of glass facades on internal environment of buildings in hot arid zone,
Alexandria Engineering Journal
Volume 58, Issue 3,
2019,
Pages 1063-1075,
ISSN 1110-0168,
https://doi.org/10.1016/j.aej.2019.09.009

9. https://www.ofgem.gov.uk/environmental-programmes/smart-export-guarantee-seg/aboutsmart- export-guarantee-seg

10. https://energysavingtrust.org.uk/advice/solar-panels/

11. https://www.cse.org.uk/advice/renewable-energy/solar-hot-water

12. https://www.dezeen.com/2021/03/04/sunne-marjan-van-aubel-solar-lamp-design/

13. https://venturebeat.com/2017/01/04/sunflare-unveils-flexible-stick-on-solar-panels/


Back