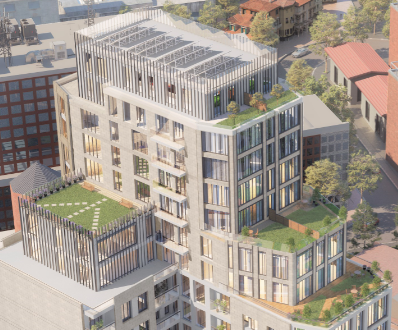 Mindfulness can be defined as 'a technique you can learn which involves making a special effort to notice what's happening in the present moment (in your mind, body and surroundings) – without judging anything'. (1) This means that 'surroundings' and therefore architecture are important to an individual's experience of mindfulness. The pandemic and climate crisis have demanded that we change the way in which we live and work, and highlighted the need for disruption in the architectural design process.
After all, our lifestyles are very much in the context of our architectural setting. This is reinforced by the large amount of time the average person in the UK stays inside, especially since the beginning of 2020, when most of the world went into lockdown to try and manage the spread of Covid-19.
Mindful architecture is a pretty broad term. The subject can involve trying to create an 'urban fabric' that aims to produce an atmosphere of togetherness and appreciates the use of communal spaces i.e. community gardens in densely-populated areas or communal green roofs that help with flood mitigation and provide a nice place for residents to socialise, encouraging interaction.
Adaptable architecture
Often our version of mindful architecture features an examination of changing lifestyles and habits, for example open-plan living can work well for homes, maximising space and opportunities for social interaction, yet as the home/work life balance becomes increasingly challenged by remote working, private spaces are gaining in importance.(2) Begging the question, how will current circumstances affect the functionality and therefore (mindful) design of future homes?
Maximising natural light in houses and offices; utilising outdoor spaces efficiently and experimenting with sustainable materials are all examples of mindful design concepts that we need to examine more closely. We also want to take into account the need to adapt to the changes and innovation the world is currently seeing as part of the green recovery and utilise mindful design to conform to this.
Community sentiment is especially important in a social housing scheme or high density schemes. As a result of current circumstances there is a definite need to enhance how private spaces are used, looking at ways that individuals can socially interact during isolating incidents like the Covid-19 pandemic. This could mean that the way community spaces are designed needs to be explored further for future generations.
Outdoor spaces
At Aqua Architecture, communal areas are something that we are beginning to explore, through prioritising the idea of community spaces and higher quality spaces, such as: open spaces with better lighting; better quality spaces to use in winter and summer; winter gardens within apartments and children's play areas. Outdoor spaces can be enhanced by bringing in smart technology e.g. solar-powered heated seats to make outdoor seating spaces more usable and inviting in the colder, darker months.
One of Aqua Architecture's designs is the Premier Gate, Woking development. This utilises clever green-stepped roof gardens to create more outdoor space with specific and various functions on each level, as well as including green walls combined with balconies and a children's play area. These design elements ensure that there are abundant opportunities for fresh air, healthy living and socialising within the high-density residential community, not to mention the increased biodiversity and rainwater recycling opportunities that increase the sustainable nature of the development.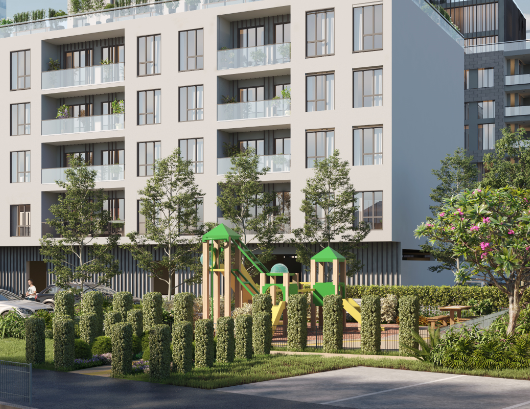 Co-living developments
Densely populated cities are often only working with a finite amount of space, with limited wide and open communal spaces included in the design of apartment and office blocks.

As a result of spatial issues and the idea of sociable living, micro-living apartments and co-living schemes were seeing a lot of popularity and exploration before the pandemic.

Aqua Architecture has conceptualised co-living/ micro unit spaces, which look at utilising communal areas, such as indoor multifunctional rooms and outdoor spaces, to complement such schemes. The high quality social spaces included in the concept are an important aspect of this scheme. The design looks at providing high quality, smaller private rooms, while building a sense of togetherness through shared kitchens and living rooms. In addition, it offers breakout spaces for businesses and small meeting rooms for remote working.

Last thoughts
It is important however to note that so far we have barely scratched the surface when it comes to conceptualising mindful design in light of the green recovery and post-covid culture. Bearing in mind the limitations of outdoor spaces, the use of indoor communal spaces and private spaces could merit further innovation, whether in big or small residences; basic and high-density or high-quality buildings. There needs to be further evaluation of the spaces that we live and work in and the mental health of occupants in order to create a better vision for the future.
By Aara Syed in collaboration with Aqua Architecture
---
References
1. https://www.mind.org.uk/information-support/drugs-and-treatments/mindfulness/about-mindfulness/

2. Pages 1 & 2 John Lewis & Partners Flexible Living Report, September 2020:
https://www.johnlewispresscentre.com/pressrelease/details/72/Home_35/12500


Back